Alien Day is quickly approaching and many vendors are gearing up to satisfy the needs of hungry Alien fans all over the globe with exclusive merchandise and events. One such company taking part is Mondo, who are well known for their sought after artwork and prints. Thanks to Inverse, we have our first look at Mondo's custom prints for Alien Day, which will go on sale accordingly on April 26th. Each print measures 24" x 36", check them all out below!
"Alien" by Lilian Eng ($50)
 "Alien" by Mike Saputo ($45)
"Alien (Variant)" by Mike Saputo ($65)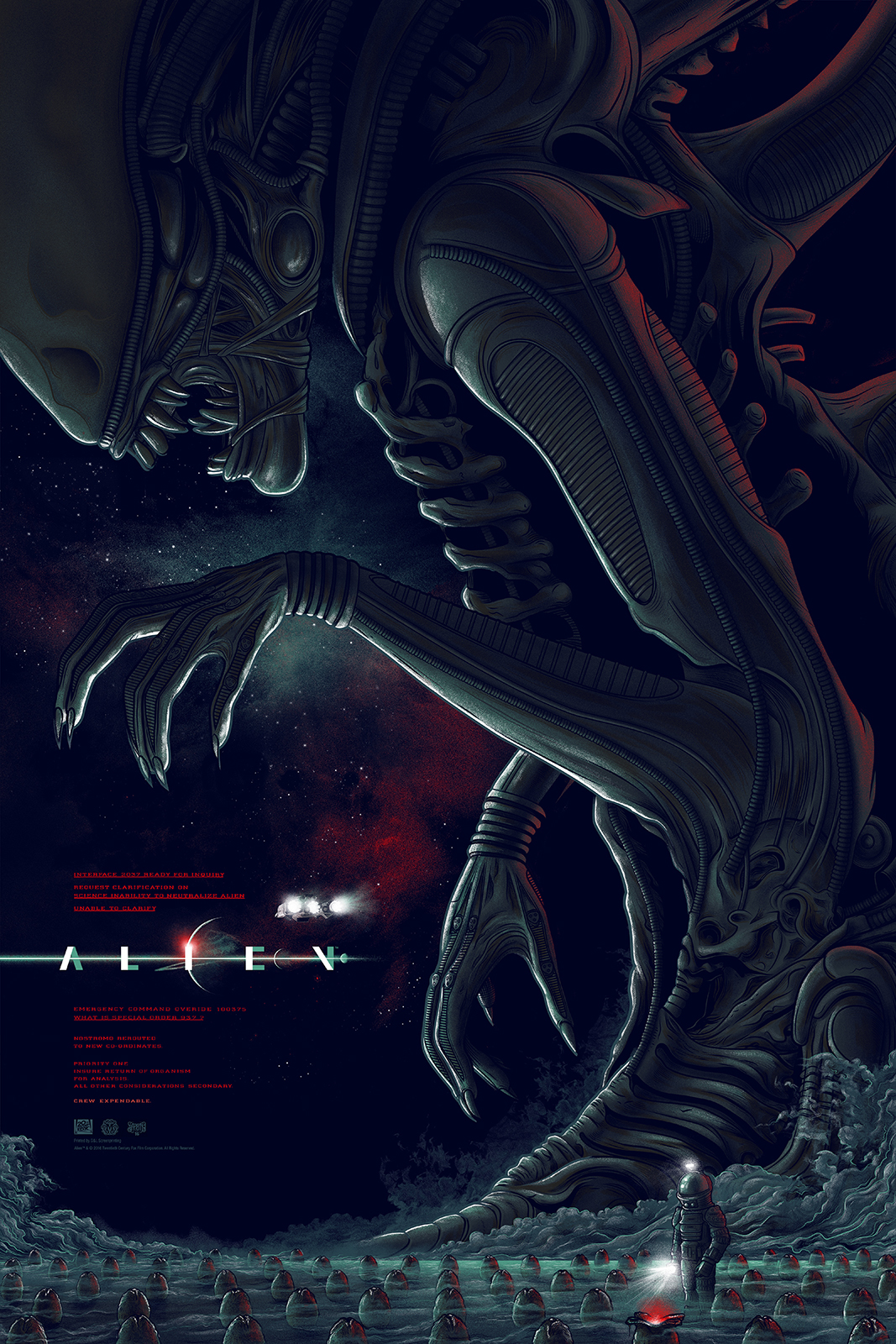 There's a lot you can do with the xenomorph design, but it's been done before. For other things, if you were to do something like patches or pins you wouldn't want to do the xenomorph. You have things like the crew insignia, which denotes what position each of the members of the crew has. They actually wear these things on their lapels. So if you're making pins, why not do screen-accurate crew insignias? Or Nostromo patches or the Weyland-Yutani logo?

The thinking was, what we could actually extract from the film and go for what they were doing to make perfect representations of what was in the film? - Jay Shaw / Creative Director, Mondo
Head on over to Inverse to read their entire interview with Mondo's creative director, Jay Shaw!
If you're a fan of Alien / Prometheus and would like to discuss Alien: Covenant and its upcoming sequel with other like-minded fans, be sure to join in our Alien: Covenant forum! Ranked the #1 Prometheus forum back in 2012 and reigning as the web's top Alien: Covenant fan site, it's a great place to discuss the upcoming Prometheus sequels, dissect details from every trailer and engage with other fans just like you.
Written by Chris
Published on 2016-04-21 15:15:48
The future of Alien
The Alien franchise is taking a dramatic turn at 20th Century Studios, now owned by Disney. Currently there are two major Alien projects in development - a new Alien TV series by Noah Hawley and a new, stand-alone Alien movie being directed by Fede Alvarez. Both of which will be taking the franchise in a new direction - moving away from the Alien prequel direction Ridley Scott set out to pursue back in 2012.
Treat yourself to some Alien Merchandise!
As we await the next Alien movie, now is a great time to build your Alien collection and expand your Alien-themed wardrobe. Check out some products below and click here for even more options!
Stay up to date with the latest news and updates on all things Alien by liking us on Facebook and by following us on Twitter and Instagram! You can also subscribe your email to our blog for instant notifications of when new posts are made!