Thanks to a trusted source who worked/is working close enough on the upcoming Prometheus sequel, we bring you an exclusive update on what the new Monsters in Alien: Covenant will look like and where they come from. This follows our article last week which shared some information regarding the plot outline for Alien: Covenant. Up until this moment, the information our source has shared is about 80% accurate when mirrored with what official sources have claimed and revealed. However, as we mentioned in our first entry to this Discovering Alien: Paradise Lost series, please take what we say with a grain of salt – especially since word has recently come up that John Logan has been hired on to revise the film's script. The information we are about to share is current as of fall, 2015, when the initial draft of the film was completed and greenlit.
POTENTIAL SPOILERS AHEAD!
According to our source:
"The movie will have 2 Monsters, one is new and both are different yet similar to the Xeno DNA. The NEW Monster is a New Event, so it's nothing created before the Events of the end of the First movie.... it's created by an event in the movie... and this New Monster is going to be based off of the Original Concept that Alien drew influence from, and this idea is something they had planned with Spaights' Ultramorph and so Gigers Necomonicon 4 is the starting point. This Monster will be transparent like a Jelly Fish to a degree.... and it's hinted that David plays a part in its creation.
The movie won't be going the route of an Alien movie, just we will see more clues and things that we can relate and make connection to the Xeno DNA and Bio-Mechanics of the Engineers.  The movie will loosely touch up on themes that can connect to the Prometheus Mythos and the Bible but more in respect to the Paradise Lost version of events but again loosely.
They won't be going a full blown Ancient Aliens in detail on us, just we can make subtle links to themes, such as Rebellion, Order of Creation (that has multiple layers that does not start with the Engineers and does not end with David). Stealing of Forbiden Knowledge and Fire and how playing God and going against God always has dire consequences."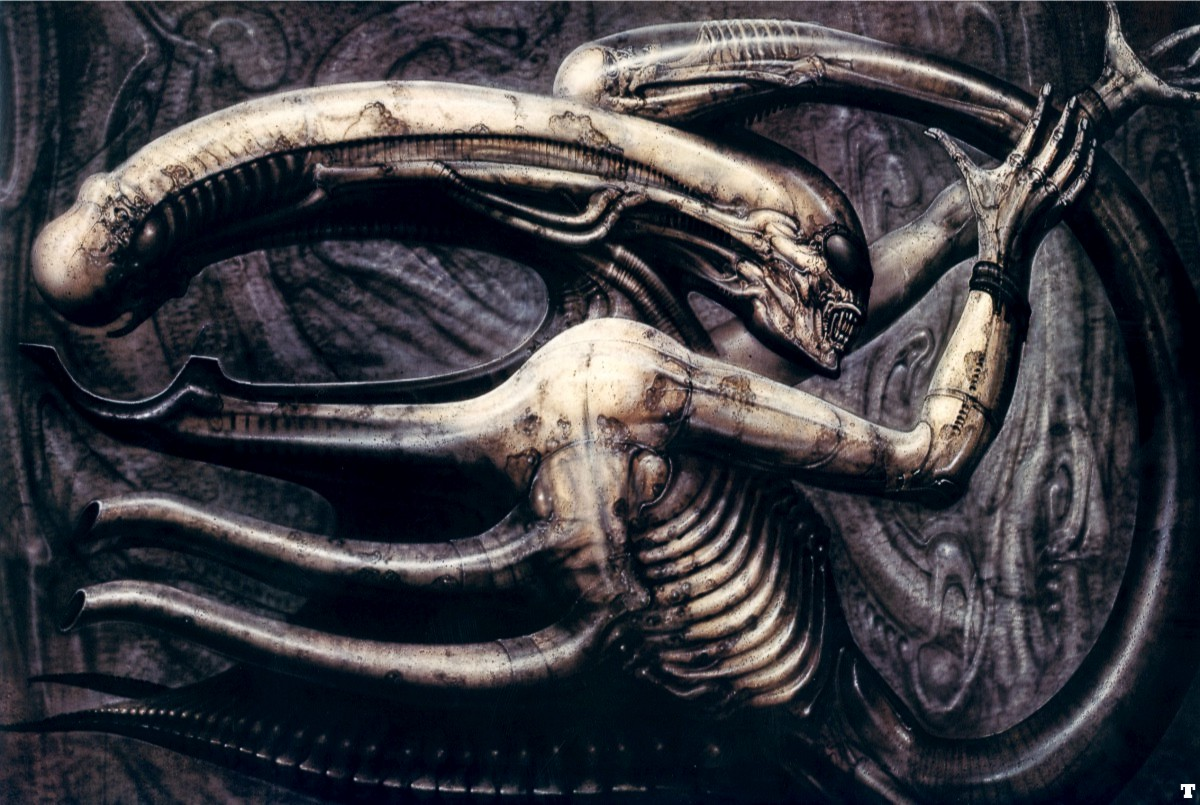 Note, the source claims one of the monsters is new, yet the other is not. This could suggest the Deacon continues to play a role in the sequel to a degree. However, this new monster will be created after the events of Prometheus and possibly even with the help of David? Could David pull another fast one on someone else and impregnate someone/something else the way he did Hollaway? This certainly seems like the direction our source is hinting at.
Another thing to consider – the motivation behind this new alien is Spaihts' 'Ultramorph', which played a role in his original draft for Prometheus entitled Alien: Engineers. In his draft, an Engineer gave birth to an Alien, but because the Engineer is much larger and more powerful than a human – as the Alien draws traits from its host – the spawn was known as the 'Ultramorph' and towered over its human-born cousins. The concept was scrapped for the first film, but concept art reveals what the creature would've looked like:

Xenomorph (top) compared to Ultramorph (bottom)
We've got a bit more to share, but we're going to wait until next week to reveal it. For now, we hope you enjoy this little insight to Alien: Paradise Lost. As filming begins in January and February, some of the themes and leaks we've provided should become more apparent, assuming John Logan doesn't change too much of the script. As always, keep it locked here for the latest news and scoops on all things Prometheus! We'd also like to give a very special thanks to our anonymous source for the incredible job relaying this information to us. Check back next week for more…
If you're a fan of Alien / Prometheus and would like to discuss Alien: Covenant and its upcoming sequel with other like-minded fans, be sure to join in our Alien: Covenant forum! Ranked the #1 Prometheus forum back in 2012 and reigning as the web's top Alien: Covenant fan site, it's a great place to discuss the upcoming Prometheus sequels, dissect details from every trailer and engage with other fans just like you.
Written by Chris
Published on 2015-11-11 13:56:04
About Alien: Covenant 2 / Alien Awakening
The state of the Alien: Covenant sequel continues to remain uncertain. Ridley Scott has mentioned previously that they have a story already in place and know exactly where the sequel to Covenant will go, however the recent acquisition of 20th Century Fox film properties by Disney have potentially put the rumored-to-be-titled Alien: Awakening on hold for the time being. As new details arise concerning Alien: Covenant 2 we will be your premiere source and you can find information on the Covenant sequel by visiting the About Alien: Awakening page here.
Treat yourself to some Alien Merchandise!
As we await the next Alien movie, now is a great time to build your Alien collection and expand your Alien-themed wardrobe. Check out some products below and click here for even more options!
Stay up to date with the latest news and updates on the Alien: Covenant movie sequel, potentially titled Alien: Awakening by liking us on Facebook and by following us on Twitter and Instagram! You can also subscribe your email to our blog for instant notifications of when new posts are made!