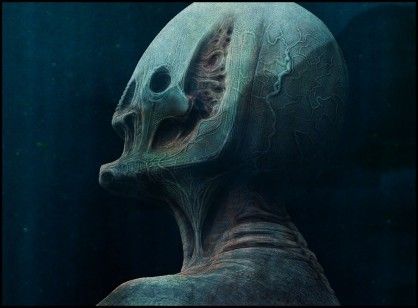 Ovomorph
Member
40 XP
Nov-04-2014 1:43 PM
Hey folks, I come here to discuss a topic that I find interesting, a topic about the original Space Jockey story, Giger's visión about LV-426 and some enigmatic structures in the landscape of the aforementioned planetoid.
The reasons for my interest? Well, basically Prometheus is made of some old ideas (Dan O'Bannon and Ron Cobb) and I was thinking that history could repeat itself. Specifically I'm talking about a new alien race in Paradise. But anyway this is not something entirely new, as one might suppose:
Dan O'Bannon's Original Alien
Going back to the early development of Alien, originally was supposed that the Space Jockey was an unfortunate traveler (as in the case of the crew of the Nostromo), who had found a pyramid built by another Alien civilization; intelligent creatures that lived in LV-426 million years ago. In this story, these alien beings have a complicated reproductive cycle; through a complex bloody birth ritual: The alien race had two sexes of their own, but needed a third host animal to reproduce. They would bring in an animal, put it on a plinth with a spore and suddenly the creature we come to know as the facehugger comes out to deposit its seed within the animal. They would lead the inseminated creature to an enclosure where it would await the birth.
O'Bannon's quote (second source):"I saw the inhabitants of the planet as tough and primitive, and with an extremely complicated sexual cycle. Reproduction was very difficult for them and had therefore become central to their religion. And this pyramid was an temple to reproduction. When the astronauts came upon this crumbling structure covered with ugly angular carvings, they begin to realize that they are in the presence of real antiquity. They're unable to find an entrance at the base, so they scale the pyramid and discover at the top a flue that goes straight down from the peak. This is where the character Kane sets up his tripod and winch and lowered himself down - way below ground level - to the floor of this chamber. Using his suit lights, he looks around in the darkness and in the middle of the room finds a stone plinth with blood drains in it. all over the walls are alien hieroglyphs. Also in there centrally located are these eggs - spores really. So these beings had two sexes of their own, but they needed a third host animal to reproduce. So they'd bring in an animal , put it on a plinth with a spore, and whammo! Then they'd lead the inseminated animal off to an enclosure somewhere to await the birth. But the planetoid was now dead and this civilisation had been gone for a million years. All that remained of it was this pyramid and these spores - which can survive dormant for incredible lengths of time even under the most adverse conditions. That's what I originally saw. And since I made it up, naturally I'm going to like it better: but to me that's a lot more sinister sequence of events and a lot more ingenious than blurring the two cultures together."
In these early ideas, we have another civilization apart from the Space Jockey race and a bizarre use for this life forms that we usually call Xenomorphs.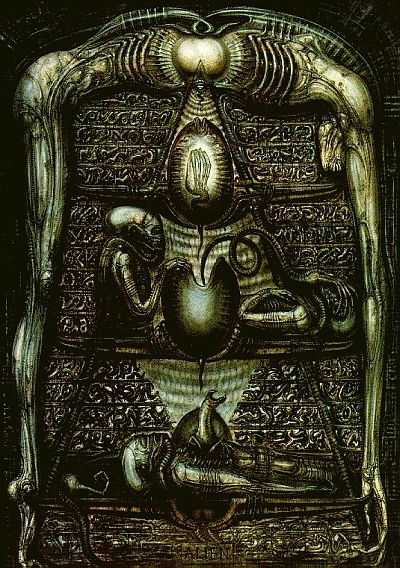 Giger's idea about a biomechanic landscape
Giger's quote (second source): "I don't appreciate that kind of science fiction where every element is invented. That's why I wanted the landscape to be biomechanic, a mixture of technology and some kind of magma, so as to create the feeling that maybe something has happened on that planet, maybe a technical civilisation has been destroyed. Unfortunately, as most of the landscape footage has been cut by Ridley Scott, I doubt whether all that can be felt any more".

According to this, Giger designed a landscape for the planetoid to be biomechanic, as a Mixture of technology and some kind of magma, so as to create the feeling That maybe a technical civilization Existed That Once Had Been there destroyed.
Grotesque rock formations in Alien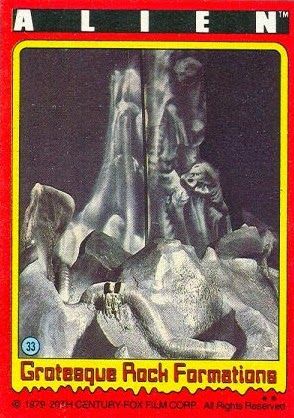 This unused concept art seems to fit perfectly with the Giger's words about the landscape of LV-426.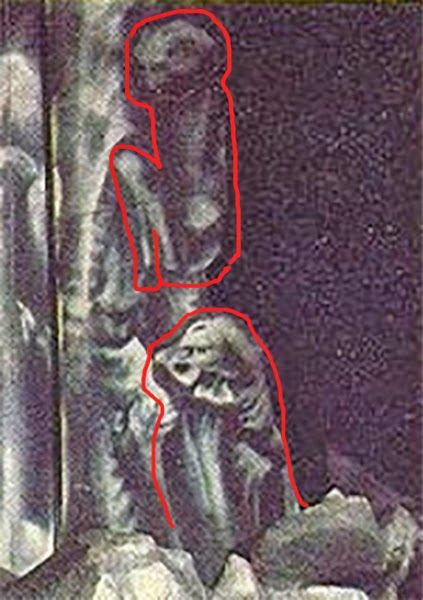 There you can see these strange formations, structures that appear to be the skeletal remains of two alien creatures.
A more detailed picture
So, considering all of the above, Paradise could be a post-apocalyptic world, not so different of LV-426 (and maybe there are some clues for the role of the xenomorphs in the Engineers society). Ok, maybe we will see more buildings and stuff like that, but these structures could be the ashes of some extinct civilization. The question is: Whose are these ashes? of Elders? or someone else?
So what are your thoughts about this? Do you think they could use some of these old ideas in Paradise? or something completely different?
PS: Special thanks to AVPGalaxy user @wmmvrrvrrmm, for his wonderful blog.
23 Responses to New alien civilization
Add A Reply