For our third entry in the Alien: Covenant Trailer Analysis series, we analyze the wreckage of the crashed Engineer Juggernaut vessel featured in the first trailer for Ridley Scott's Alien: Covenant and how it could link to the original ALIEN. Previously, we covered our first official look at a baby Neomorph from the trailer as well as our first glimpse at David and why he's wearing an Engineer cloak. If you haven't read those analysis articles, I suggest you do!
Discovering the Crashed Juggernaut
The Alien: Covenant trailer seemed to tease  a few major key moments from the film and like the Neomorph cut-scene, if you weren't paying close attention you might have missed some big clues.
Upon exiting the Covenant shuttle, Walter (the other Android played by Michael Fassbender) leads the crew on a quick surveying mission of the new planet. They seem to have picked up on a beacon (like in ALIEN) which leads them to a very familiar ship - an Engineer Juggernaut.
This was the ship Dr. Shaw (Noomi Rapace) and David (Michael Fassbender) used to escape LV-223. The actual journey with Shaw and David to this planet is not seen on-film, but clues will be shown throughout the following sequences which give an idea of what transpired while the Covenant was travelling through space towards the beacon left by Shaw / David.
As you can see also, David did not perfect the landing job. Juggernauts / Derelict space craft seem to have a hard time landing gracefully - every documented moment involving a "landed" Juggernaut have always resulted in the craft being violently crashed on a planet's surface.
The Exploration of the Downed Craft
A few cut-scenes give us a bird's eye view of the Juggernaut interior as the Covenant crew make their way through its Orrey chamber (Map room / Pilot room). You can see the Engineer chair and the Pilot's Chair highlighted by the crew's flashlights.
Discovering clues to Shaw's remains
Shaw's existence is not referenced in the official Alien: Covenant plot synopsis and so we can assume that she is not active or even alive during the time Covenant takes place. However, we know Noomi Rapace did film scenes for Covenant and that her story is briefly explained.
In the scene above, Daniels seems to discover dog tags, which could belong to Shaw. The background of the ship also seems damaged - so this could either be the Juggernaut's interior OR inside David's hideaway on the planet. Either way - clues to Shaw's fate are discovered. What exactly they reveal is still up in the air.
This is NOT the Derelict from 1979's ALIEN
As you can see in the screenshots above, this is clearly not the same Derelict space craft from Scott's original 1979 ALIEN. The Pilot's chair is empty - no fossilized Jockey. The environment of the ship's interior is also very clean looking and does not look at dated or worn out as the one discovered on LV-426. However, that's not to say it doesn't become the Derelict from ALIEN.
As you can see - no mountains surround the Derelict like the Juggernaut in Alien: Covenant. Also, the environment is primarily rock, as opposed to the lush setting of Alien: Covenant's planet.
How this Ship COULD Become the Derelict:
There really only two scenarios which could lead to the Juggernaut becoming the Derelict in ALIEN. The following is pure speculation based on evidence currently at our disposal.
Scenario 1: The planet in Alien: Covenant is LV-426
For this scenario, the planet Covenant takes place on would need to go through a traumatic transformation (Black Goo nuke?) near the end of the film. The Jockey would need to be either David, or a member of the Covenant crew with an agenda as evil as David's, who is exposed to a Facehugger by someone trying to escape the planet (Daniels perhaps) as a means of stopping them from taking the Juggernaut to Earth. Like in Prometheus this could be a sequence of cat and mouse where Daniels or whoever manages to survive most of the film, attempts to escape back to the USCSS Covenant orbiting the planet but knows they're being tailed by whoever wishes to see Humanity burn.
This scene could make for a nice homage to James Cameron's ALIENS, by having Daniels and maybe Walter escape back to the Covenant and decide that they should nuke the place from orbit, just to be sure their antagonist is dead and can't leave. They use some form of a nuke to drop on the planet's surface which sets off a chain reaction - turning the planet into a rocky wasteland (volcanic eruption) - which would account for the Jockey being fused with the chair - extreme heat - melting their suit to the chair.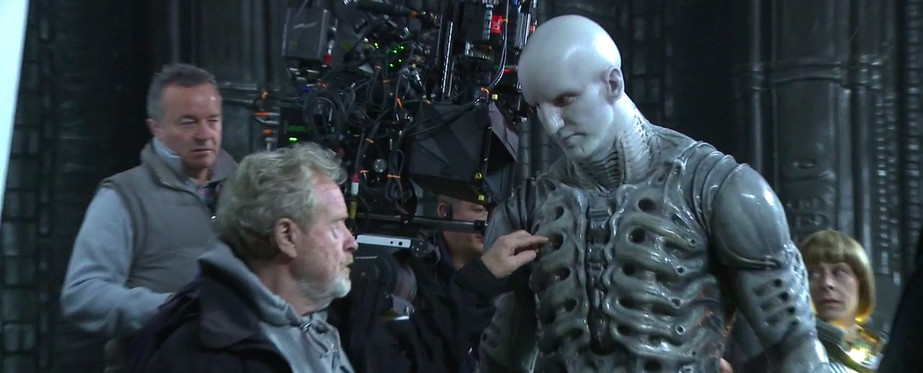 Scenario 2: Another Engineer attempts to stop David
For this scenario, it would need to involve another Engineer who's managed to survive on Covenant, who again is awoken by one of the Covenant crew, against David's orders. This Engineer wakes up to find out what David has been up to and what he's done and attempts to stop him (as he is off back to the Covenant with Daniels) and tries to fire up another Juggernaut. But, David knowing this threat off-screen had planted a Facehugger on the sleeping Engineer and then kept him in a cryo chamber just in case he ever got out. The Engineer takes off, in pursuit of the Covenant which now houses Daniels and David (speculation), but as the Juggernaut the Engineer is in gets closer to the Covenant and is about to fire upon it - the gestating Alien bursts from its chest and forces the ship to crash on a nearby moon - LV-426. 
Beyond these two scenarios, I don't see how Alien: Covenant can explain coherently how the Derelict ended up on LV-426 with the screen time its been given. Of course, as I stated the above scenarios are pure speculation - but feel free to let me know your thoughts and theories in the comments below!
Check back again soon for the next post in our Alien: Covenant Trailer Analysis series.
If you're a fan of Alien / Prometheus and would like to discuss Alien: Covenant and its upcoming sequel with other like-minded fans, be sure to join in our Alien: Covenant forum! Ranked the #1 Prometheus forum back in 2012 and reigning as the web's top Alien: Covenant fan site, it's a great place to discuss the upcoming Prometheus sequels, dissect details from every trailer and engage with other fans just like you.
Written by Chris
Published on 2016-12-27 17:25:18
The future of Alien
The Alien franchise is taking a dramatic turn at 20th Century Studios, now owned by Disney. Currently there are two major Alien projects in development - a new Alien TV series by Noah Hawley and a new, stand-alone Alien movie being directed by Fede Alvarez. Both of which will be taking the franchise in a new direction - moving away from the Alien prequel direction Ridley Scott set out to pursue back in 2012.
Treat yourself to some Alien Merchandise!
As we await the next Alien movie, now is a great time to build your Alien collection and expand your Alien-themed wardrobe. Check out some products below and click here for even more options!
Stay up to date with the latest news and updates on all things Alien by liking us on Facebook and by following us on Twitter and Instagram! You can also subscribe your email to our blog for instant notifications of when new posts are made!