Space Jockey: Strange and Curious findings
4,253 Views
4 Replies
Add A Reply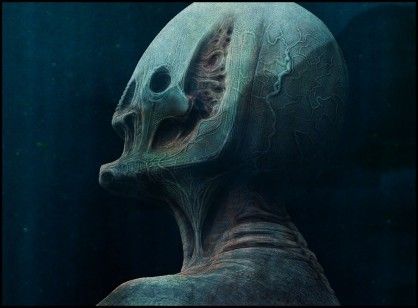 Ovomorph
Member
40 XP
Nov-04-2014 6:57 PM
Among a sample of conceptual art of Alien Resurrection, there is a curious picture of a fetus with face similar to a space jockey from Alien. I wonder what was going through the head of the artist at the time he was creating this design.

Another good one is present in the TV series Ancient Aliens presented by Giorgio Tsoukalos:

This is a funny coincidence, because one of the ideas raised in the show is that maybe the Hindu god Ganesh was an extra-terrestrial visitor wearing breathing apparatus that might have been mistaken for an elephant's head and trunk.
In the imagen above, a statue was shown showing a Ganesh with segmented breathing pipe in place of a trunk, ending in a bowl in such  way that it resembled a breathing filter. The thing is presented as a genuine ancient relic, but unfortunately there are no reliable sources to confirm this, and it is possible that our beloved Space Jockey from Alien inspired that statement, especially considering that Giorgio Tsoukalos is a big fan of Alien, Aliens, Prometheus and HR Giger. In fact he has these photos posted on his official Facebook page:
4 Responses to Space Jockey: Strange and Curious findings
Add A Reply