Prometheus did not feature any Xenomorphs, but the original script for the film, Alien: Engineers by Jon Spaihts featured plenty. In fact, there was going to be a climactic scene where the Pressure Suit Engineer fights a number of Xenomorphs in the Engineer Temple after amy members of the Prometheus crew were impregnated. You can read a run down of everything the Alien: Engineers script featured, here. Originally Prometheus was intended to act as a prequel to Ridley Scott's 1979 Alien but after script revisions the plot direction took a broader turn and instead worked to ask more questions and open more doors - leaving a lot of room for expansion of the franchise down the road. Below is one of many concept pieces for the Xenomorph to-have-been-featured from when Prometheus was in production.
Also, it's important to note that months ago, we recevied some exclusive info regarding the new monsters to be present in the Prometheus sequel. This of course was before John Logan came on board to add rewrites, but if the creatures themselves weren't re-written, it's very likely that we could see a total of two new Xenomorph-like beings in Alien: Covenant, one of which sporting transluscent skin - an abandoned concept from the first Alien, as well as the dreaded Ultramorph - a Space Jockey / Engineer born mega-Alien if you will - also something that was intended for the original Prometheus story.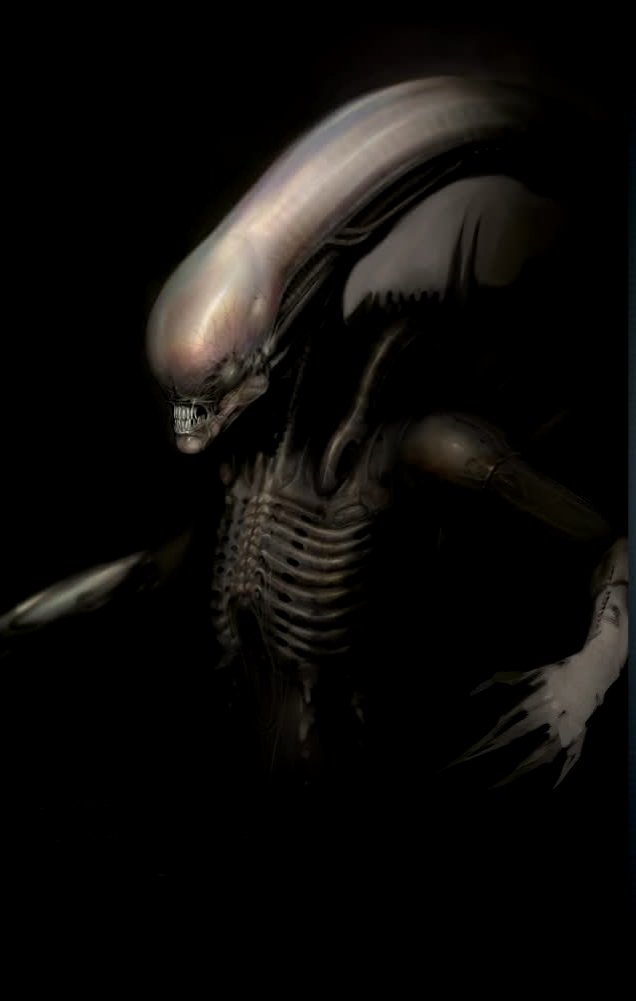 Thanks to AvPGalaxy on Twitter for the image
When comparing statements made by Ridley Scott as well as what our own internal sources have claimed, we likely will not get to see the "classic" Xenomorph in Alien: Covenant, but variations of the creature instead. If our sources were correct, the Aliens present in Alien: Covenant will be created from a new event - contributed to, in part by the stranded David 8 android from the first film. How this comes to be - we don't know, but it's certainly fun to speculate the possibilities. If you have an idea or wish to share your thoughts, let us know in the comments section or in the Alien: Covenant forums!
If you're a fan of Alien / Prometheus and would like to discuss Alien: Covenant and its upcoming sequel with other like-minded fans, be sure to join in our Alien: Covenant forum! Ranked the #1 Prometheus forum back in 2012 and reigning as the web's top Alien: Covenant fan site, it's a great place to discuss the upcoming Prometheus sequels, dissect details from every trailer and engage with other fans just like you.
Written by Chris
Published on 2016-02-20 07:59:40
The future of Alien
The Alien franchise is taking a dramatic turn at 20th Century Studios, now owned by Disney. Currently there are two major Alien projects in development - a new Alien TV series by Noah Hawley and a new, stand-alone Alien movie being directed by Fede Alvarez. Both of which will be taking the franchise in a new direction - moving away from the Alien prequel direction Ridley Scott set out to pursue back in 2012.
Treat yourself to some Alien Merchandise!
As we await the next Alien movie, now is a great time to build your Alien collection and expand your Alien-themed wardrobe. Check out some products below and click here for even more options!
Stay up to date with the latest news and updates on all things Alien by liking us on Facebook and by following us on Twitter and Instagram! You can also subscribe your email to our blog for instant notifications of when new posts are made!