Giger's Necronom IV appears on Alien: Covenant Clapperboard! (UPDATED)
Member
73
Posted Jun-16-2016 6:01 PM
CINEMA Magazine Reporter Scott Orlin recently tweeted a photo from the set of ALIEN: Covenant.
It shows him holding a clapperboard from the film, which depicts Giger's Necronom IV. Could this prove significant to the reworked design of the Alien?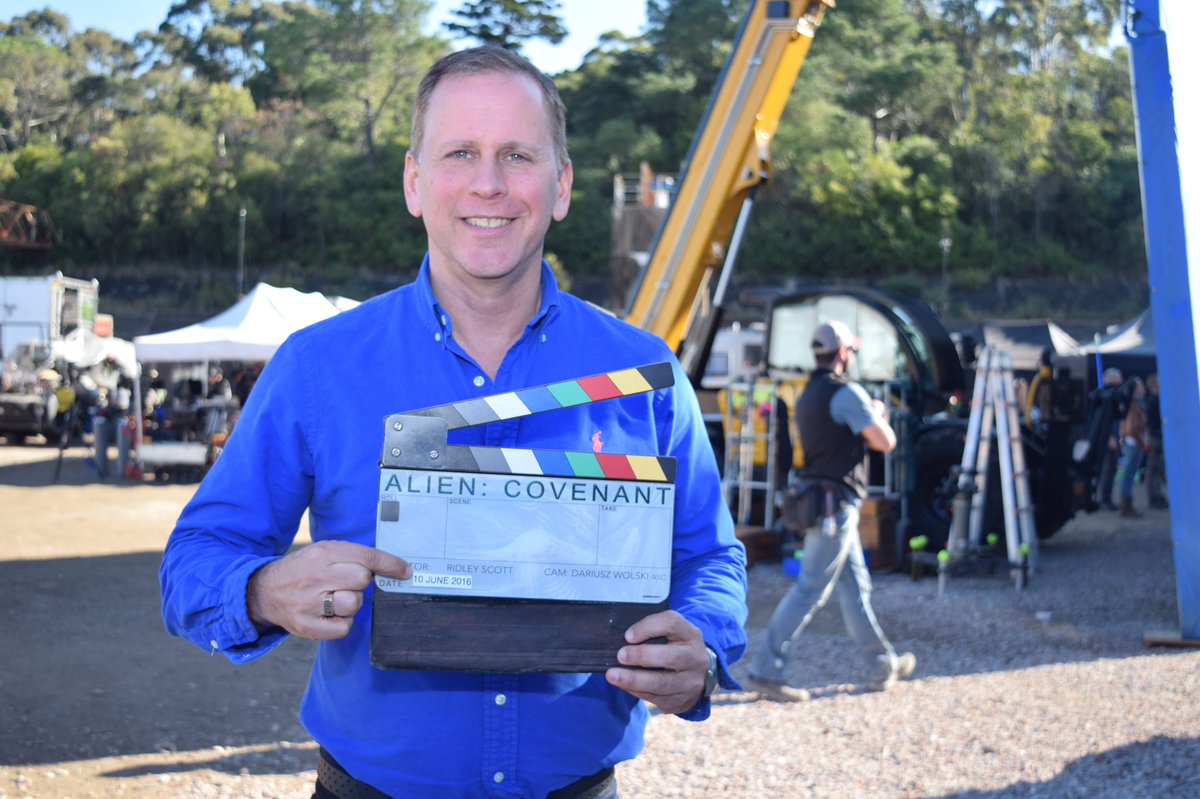 As we know, Sir Ridley Scott stated that the original Alien would make an appearance in the movie along with a new creature. Does the image prove what many fans are hoping for, a return to the look of the unique and mysterious work of H.R Giger, or as we refer to it The Giger-verse? 
I have always loved the pale coloured, almost translucent quality of the Necronom series of paintings. That was the design originally intended for the Alien, but the Translucent Suit never worked out. Modern prosthetics merged with CGI could properly re-imagine Giger's work! 
UPDATE: 2 more photos of the clapperboard have been shared!
38 Responses to Giger's Necronom IV appears on Alien: Covenant Clapperboard! (UPDATED)
LONE - How extremely compelling! I certainly hope we are treated to some of the unused concepts throughout the Alien continuity when Alien: Covenant is at last released! Thank you so very much for taking the time to share this with us! :)
I am sure it would borrow from some unused ideas and concepts from Prometheus and even prior movies that was dropped or not used.
I think after AC is out we would see concepts similar to previous ideas that again maybe never made it to AC with maybe new concepts for AC then maybe never make it too.
I think im looking forwards to what concepts and ideas they had Post Prometheus to Alien Covenant wrapping up shooting etc more than the movie itself lol.
It will be interesting to see what ideas they had, that may have then been changed or dropped.
R.I.P Sox  01/01/2006 - 11/10/2017
I could be wrong, but I really don't see any significance of that picture in regards to the upcoming film. Probably there because someone needed something to do.
You may be correct Neomorph, it could be meant as a tribute to H.R Giger and nothing more.
Regardless, I would love to have one of those clapperboards! 
You're welcome Something Real! :)
Well the Source back in March 2015 said they was Two monsters one based off Necronom 4 and the other of the Original Alien design (which they then ended up saying the alternatives not final).
Again cant say if any of that is true...
But what we do know is this.....
This movie is in a way what Ridley claims will lead to a Origin Story, he even had the Prop Hand.. tagged "Where it all Begins"
So in context to a new Prequel series that would now give us those answers down the line (or so they hint)..
Where this indeed ALL BEGAN... was with that Necronom 4, its what Ridley saw when presented the work by O'Bannon and Ridley said "thats it"
So its a nod to the Original idea that evolved to what we all came to know as the 1979 Big Chap...
Which is why also the Production staff have clothes made for them that feature various images of the 1979 Alien and its Life Cycle.
Its a nod to the concepts that gave us Alien and how they are now going to show us how as far as in the Franchise we arrived at that Alien.
So also in a way it can play a Red Herring to people too.
Could we see a design like the Necronom 4 in future? Who knows.
R.I.P Sox  01/01/2006 - 11/10/2017
Either way, I see it as a tribute to Giger.
As you pointed out the where it all begins tag takes on real significance.  
One [or both] of H.Rs beautiful monsters, either Big Chap or one based purely on Necronom 4 could be featured in AC or the follow up/s before Ridley "backs in" to A L I E N.
Certainly Ridley Scott is trying to make a fresh take on the Xeno and connections.... he tried with Prometheus but failed... because well if Prometheus we saw a more Xeno Fifield...  If we saw something come from Milburn after the Hammerpede laid a Egg etc.... that then either killed people or just saw the Young stage of it..
And if the Deacon say escaped and found and killed Vickers, and David and Shaw escaped... these things would have turned Prometheus to have some of those less Alien Action scenes that Alien Engineers had.
Its this reason AC will show us Aliens killing people... but also trying something new and fresh with the Neomorph
Depending how the they go down and reaction... i think Ridley would like to try and show some other slightly different related Monsters... bring something Fresh.
The Ultramorph played a big role in terms of Plot and Design for Spaights Draft... despite not so much in screen time.
Maybe if we are going to ever touch up on Engineers in the next few movies.. be it flash back..../ or actually within the timeline of post AC.... maybe having something like the Ultramorph could be a nice step to take.
I think Fox and Ridley will indeed look at fans reactions..
R.I.P Sox  01/01/2006 - 11/10/2017
for me, the shower scene will involve the classic xeno. as wev seen it before, it is shown, even just slightly in the trailer but still more than anything else so no point in really hiding it. it also gets the fans excited
Sign in to add a reply to this topic!