Giveaway time for Alien fans! We have teamed up with HalloweenCostumes.com to provide one fan with a chance to become a Xenomorph for Halloween this year! Check out the requirements below and follow the instructions for your chance to win a Delux Latex Alien mask! The mask is of the famous Grid Alien Xenomorph from 2004's Alien vs. Predator.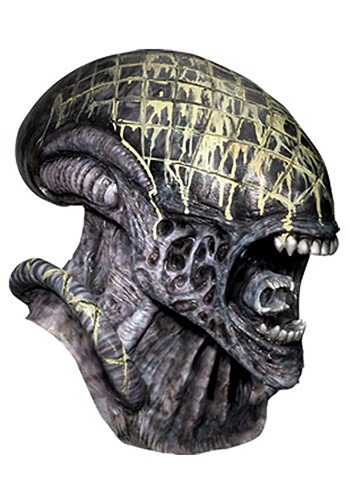 If you want to be one of the most terrifying things ever dreamt up then we have just what you need. Grab this Deluxe Latex Alien Mask and you'll be ready to run rampant around town this Halloween. You can finally have the horrifying head of one of the infamous Xenomorphs sitting atop your shoulders. You'll be sure to get plenty of scares from all of your human friends. They'll think one of those darn face-huggers hugged your mug and that the vial creature they see before them broke out of your chest!
HOW TO WIN: Simply log in with your Scified account and in the comments section of this post, write down your favorite Alien design, from any film spanning Prometheus to the original Alien series, to the Alien vs. Predator films and of course, Alien: Covenant. Post a photo of the Alien design you most prefer along with why you chose that iteration. You can of course include variants of the Alien gene pool (ie. Newborn and Deacon can be included).
A winner will be selected this Sunday, October 22nd, 2017 and will be messaged privately on Scified.com. Best of luck to all who enter!
If you're a fan of Alien / Prometheus and would like to discuss Alien: Covenant and its upcoming sequel with other like-minded fans, be sure to join in our Alien: Covenant forum! Ranked the #1 Prometheus forum back in 2012 and reigning as the web's top Alien: Covenant fan site, it's a great place to discuss the upcoming Prometheus sequels, dissect details from every trailer and engage with other fans just like you.
Written by Chris
Published on 2017-10-20 16:27:24
About Alien: Covenant 2 / Alien Awakening
The state of the Alien: Covenant sequel continues to remain uncertain. Ridley Scott has mentioned previously that they have a story already in place and know exactly where the sequel to Covenant will go, however the recent acquisition of 20th Century Fox film properties by Disney have potentially put the rumored-to-be-titled Alien: Awakening on hold for the time being. As new details arise concerning Alien: Covenant 2 we will be your premiere source and you can find information on the Covenant sequel by visiting the About Alien: Awakening page here.
Treat yourself to some Alien Merchandise!
As we await the next Alien movie, now is a great time to build your Alien collection and expand your Alien-themed wardrobe. Check out some products below and click here for even more options!
Stay up to date with the latest news and updates on the Alien: Covenant movie sequel, potentially titled Alien: Awakening by liking us on Facebook and by following us on Twitter and Instagram! You can also subscribe your email to our blog for instant notifications of when new posts are made!