Ridley Scott is known for his elaborate doodles when he's conceptualizing a specific scene or series of events for a film he's directing. According to our source who was close to the project and has provided some very reliable information regarding Alien: Covenant's plot so far, rough concept drawings and doodles were being created in February and March of 2015 as Ridley Scott and company began fleshing out visuals for the film. It was during this time that our source managed to sneak a peek at some of these 'doodles'. Below are their accounts of what they saw. As with our previous posts, this information has been passed on to us and not experienced first-hand. So, anything you read in this article should be taken with a grain of salt. Also, keep in mind that some concepts may not make it onto film, as many concepts were not filmed for Prometheus. That said, if you don't mind potential spoilers, enjoy...
I've gone ahead and summarized some of their more vague accounts into a point-form list for ease of reading:
Images of Nebulas and concept work based on a Nebula in the background and a Juggernaught looking ship
Concept art on a Juggernaught-like ship, but slightly different in design
Designs of a of a World Surface that was dark and had a landscape that looked a lot like LV-426 (The source claimed that they believed it was in fact LV-426, but that was their personal assumption)
This next part I will directly quote as it contains some very interesting points:
"There were concept works mainly of a Giant Sun with a Giant Bluey/Green Planet sourounded by 5 Moons.
Other works looked like Valley of the Kings Egypt only on a Dark World, it featured rows of Statues some Human looking some not so Human, pretty much like Egyption Statues at Valley of the Kings and they were not in pristine condition but damaged - some decapitated, to show that these things are Ancient and Neglected...
Then at the bottom of this like path that contained statues was a Black Obelisk that had life to it, well it was not derelict and had Green Glow in the centre similar to the Crystal in Prometheus.

Another Concept showed a Humanoid connected to what looked like a Wall/Machine or like a Giger inspired Mainframe similar to the Deacon Mural..."
They said they could not make out the sex of the Humanoid but it was Humanoid in shape in the same Cruciform pose. They also vaguely caught sight of what seemed to be like the "scene from The Matrix as far as the Stasis Pods that people were kept in".
Whether these accounts are accurate and actually reflect concept art for Alien: Covenant has yet to be seen, however as filming begins in February we should get some clues to either prove or disprove these claims. Until that time comes, these possible concept pieces do raise some interesting questions. The mention of an Obelisk containing a similar green crystal to the one seen by Hollaway in Prometheus could shed more light on what that "tomb" was for.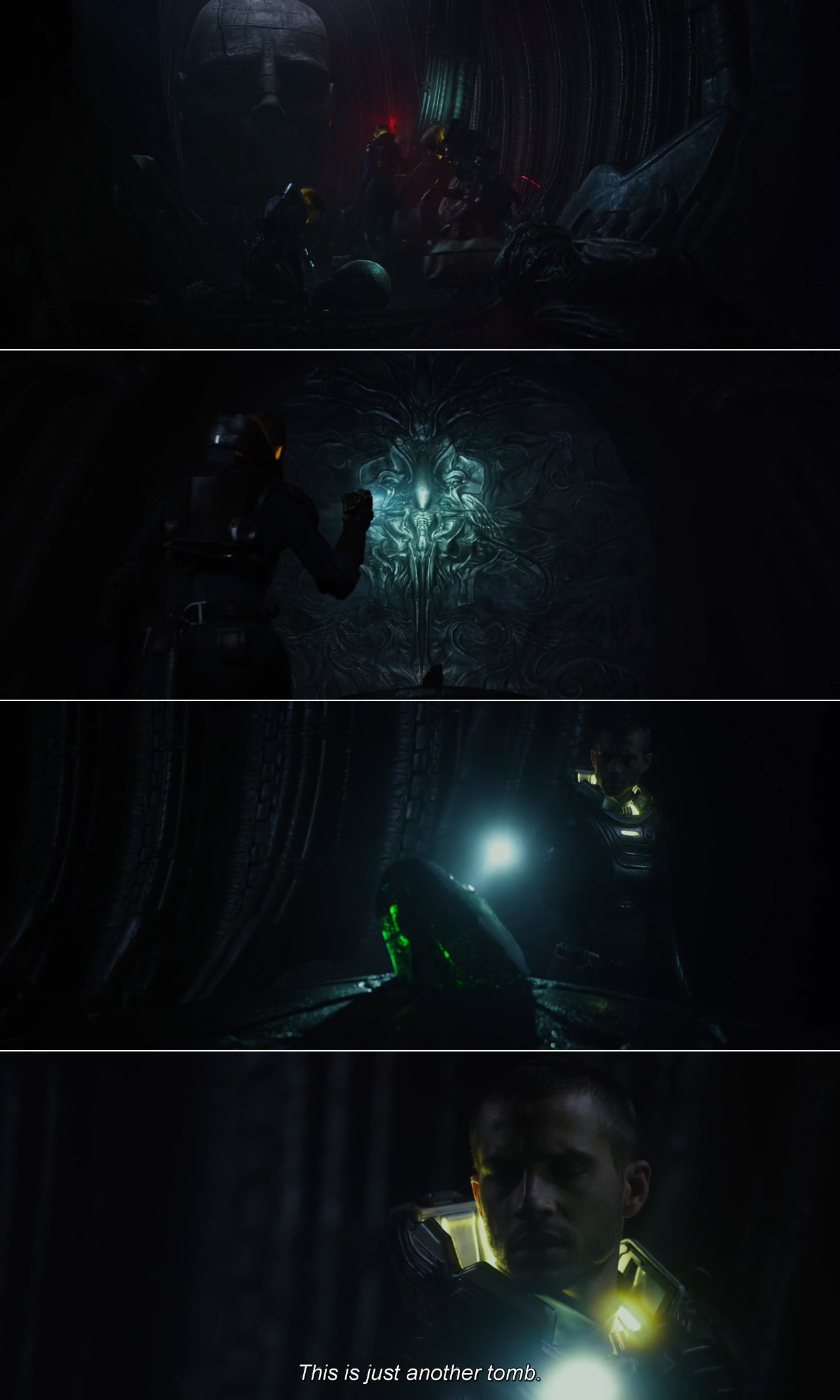 The mention of stasis pods could also reference another Engineer facility - one where they were experimenting on or harvesting life forms for experimentation? The possibilities and questions are endless. As more information comes our way, we'll be sure to keep you updated.
If you have a scoop for Alien: Covenant don't hesitate to get in touch with us! Another big thanks to our anonymous source for providing us with this potential insight into the Prometheus sequel! Let us know your thoughts in the comments section or in the Alien: Covenant forum!
If you're a fan of Alien / Prometheus and would like to discuss Alien: Covenant and its upcoming sequel with other like-minded fans, be sure to join in our Alien: Covenant forum! Ranked the #1 Prometheus forum back in 2012 and reigning as the web's top Alien: Covenant fan site, it's a great place to discuss the upcoming Prometheus sequels, dissect details from every trailer and engage with other fans just like you.
Written by Chris
Published on 2015-11-19 21:35:20
About Alien: Covenant 2 / Alien Awakening
The state of the Alien: Covenant sequel continues to remain uncertain. Ridley Scott has mentioned previously that they have a story already in place and know exactly where the sequel to Covenant will go, however the recent acquisition of 20th Century Fox film properties by Disney have potentially put the rumored-to-be-titled Alien: Awakening on hold for the time being. As new details arise concerning Alien: Covenant 2 we will be your premiere source and you can find information on the Covenant sequel by visiting the About Alien: Awakening page here.
Stay up to date with the latest news and updates on the Alien: Covenant movie sequel, potentially titled Alien: Awakening by liking us on Facebook and by following us on Twitter and Instagram! You can also subscribe your email to our Alien: Covenant blog for instant notifications of when new posts are made!
Treat yourself to some Alien Merchandise!
As we await the next Alien movie, now is a great time to build your Alien collection and expand your Alien-themed wardrobe. Check out some products below and click here for even more options!